The 5th meeting will take place 12th of march 2010
"Wine & Cheese"/ International artists, art mediators and curators are invited to NGBK for informal get-togethers with wine and cheese starting in July 2009. Passionately involved in art, professionals are given a forum to exchange experiences, to build networks, to talk about side effects, to share solutions and to generate new ideas. Wine & Cheese has been arranged with Kate Squires, Artist, Curator and Arts Consultant London and created with Wibke Behrens, coordinator at NGBK.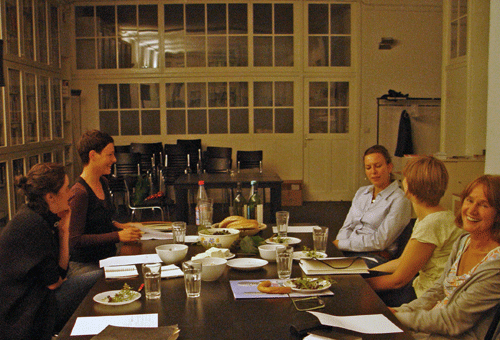 Wine & Cheese 11th of September 2009. On the picture (clockwise from left):
Kate Squires, Silke Feldhoff, Julia Rosenbaum, Greta Hoheisel, Sibylle Tiedemann.
Please take note of the call (deadline february, 1 of 2010) of Lilia Voronkova – social scientist and fellow of Alexander von Humboldt Foundation, St.-Petersburg, Russia / Berlin, Germany.
call for papers_5min